FT: Buy-side Alternative Data Spend to Exceed $1bn by 2020
The Financial Times published an article yesterday titled "Asset managers double spending on new data on hunt for edge" featuring AlternativeData.org's first analysis on buy-side industry spend on alternative data. Our findings show a significant acceleration in spending over the last two years (~60% y/y) that is estimated to reach over $1bn by 2020.
Key takeaways:
Buy-side spend on alternative datasets has doubled since 2016, and is expected to hit $1bn by 2020.

The FT cited increasing pressure from low-cost index funds as a primary driver for asset managers turning to alternative data in the search for an edge.

The increased spend on alternative datasets suggests that the need to build out alternative data teams will continue to accelerate, as suggested in this 

January feature of AlternativeData.org in the FT (first link).

Another consultant is referenced with a higher current estimate of $5bn in annual spend on alternative data, but a more modest growth projection (30% y/y). (Note: Methodology could not be verified but it likely includes a broader industry in their "investor" sample, rather than exclusively buy-side discretionary investors).
Momentum in alternative data use affirmed by industry leaders:
"The advanced pace of technological disruption is impacting the traditional investment landscape, providing new ways to identify and originate investment opportunities that generate value for investors."

 – Chris Molumphy, CIO, Franklin Templeton fixed income.

"We continue to add investment research staff and are working on a more comprehensive data strategy, including enhancements in the ease of doing business for advisers . . . as well as enhanced data availability for our distribution and investment management teams

."  – Benjamin Clouse, CFO, Waddell & Reed.
About the analysis:
Our results combine two separate analyses: 1) a spend survey of buy-side AlternativeData.org subscribers, and 2) our buy-side alternative data full-time employee analysis.

The survey collected spending by buy-side discretionary investors on alternative datasets over the last two years and estimated spend in the coming two years. Results provided a breakdown of spend across different fund tiers: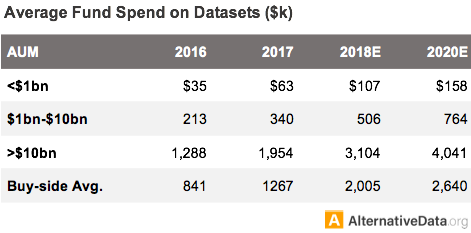 The employee spend figures looked at growth projections of full-time employees that work with alternative data in the investment process, based on the 

full-time employee analysis we published in January. We then estimated the total hiring, salary, and overhead costs of maintaining these employees to reach our total spend estimate.